We help solo entrepreneurs and small to medium-sized business within the innovative technology industry, to create, promote, and maintain their online brands.
We provide a variety of services to our customers.
Get your space on the Web and Register your Domain Name with us today, a South African registrar of most international domains.
Let us make your products and services available to anyone on the internet by hosting your domain on our servers.
Sign up for our hosting services and receive 30 email addresses for your personal or business adventures and activities.
Looking for a website? We offer various CMS website development packages ranging from small personal websites to large e-commerce websites.
Service Packages focussed on website maintenance, to ensure your website and its underlying functionalities are updates, and running like a well-oiled machine.
We work with various designers from small to big projects, let us help you create your business branding for you, we've got you covered.
We do the maintenance, you focus on business
You take care of your marketing content, and we take care of the content design, publishing and sharing of your content online.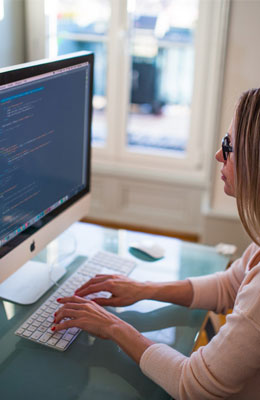 We stand out because we offer a personalized service, we are a small business focused on the creation and maintenance of beautifully interactive websites which is a core tool for your business in a digital world.
View some of our latest websites completed.
Acusticare Hearing Clinic
With a variety of designers available, we have ample skills at your disposal.
We work with various freelance designers.
We embrace the future of business in a world where industries and people are more and more reliant on distributed workforce networks.
Our services consist of minimum business personnel, and many professionally skilled and trusted individual and business freelance services.
Website Design & Development
Let's Create an awesome website
Contact us if you are interested in creating your online brand, we'll be more than happy to assist you in creating a beautifully functional and responsive website.